Following the success of my venture into Love Live: School Idol Project, featuring the exploits of best girl Honoka Kousaka and the rest of μ's as they sing their way to the salvation of their doomed high school, I was delighted to learn that the end of the two-season anime was not the definitive end to their adventures; that distinction would go to The School Idol Movie, which chronicles the events after their victory at the Love Live competition. Believe it or not, due to personal laziness, it took me almost two years to finish this film. I started watching this two months after Anime North in 2019 (of which, unfortunately, thanks to Doug Ford's incompetence, there will be none of this year), and stopped halfway through before finally completing it on Holy Thursday of this year. To put it bluntly: no, the movie did not suck arse; however, whereas I rated seasons 1 and 2 at least 9/10, the movie was lacking some qualities that made the former so much fun to watch – to the point that I proudly declared to a friend that it was "better than the Fate series", much to his chagrin.
LOVE LIVE: THE SCHOOL IDOL MOVIE
Released almost a year after the last episode of Love Live: School Idol Project's second season in June of 2014, the project involved the same individuals who were responsible for the anime series: studio Sunrise of Gundam, Code Geass and Cowboy Bebop fame; publisher ASCII Media Works and musical record label Lantis. Following right off the bat from the success of the series, the movie immediately made a mark on fans of the franchise, with over 200,000 copies of a "limited edition" DVD for the movie being sold between December 2015 and January 2016, and it became a trending topic in Japan after the film's TV premiere in January 2017. Although the film managed to top the box office on its opening weekend, it would keep that spot for four weeks until Avengers: Age Of Ultron took it over.
Many critics praised the animation quality, especially of the musical segments – of which there are five transplanted in the film – and this can be seen through its reception of the animation awards at the 39th Japan Academy Prize as well as in that year's Tokyo Anime Festival and the Newtype Anime Awards, and the film's soundtrack singles, namely Angelic Angel, Sunny Day Song + Hate Na Heartbeat and Bokutachi Wo Hitotsu No Hikari ranked highly in Japan's singles chart and sales, placing second, third and fourth respectively.
PLOT
Several months after μ's achieved victory at the second Love Live competition, Honoka arrives at school only to find out from group member Hanayo on the latest updates regarding Love Live: it would be hosted in the Tokyo Dome, the city's local baseball stadium. Further news from Kotori's mom, the principal, also indicates that their group is scheduled to perform in New York City as part of a promotional documentary series on school idols. Upon arriving at "the city that never sleeps", despite the initial chaos of misplaced hotel arrangements, temporary bouts of homesickness and adjusting to a new country, the group starts off their vacation with several visits through various attractions such as the Statue of Liberty, Rockefeller Center and a boat trip across the Hudson River. Near the night, Honoka boards the wrong subway and stumbles upon a young woman singing in a street corner, who she befriends and has a conversation with about their musical talent and aspirations. To her surprise, the young woman's story has much in resemblance to her own; but even more, she encourages Honoka to shape her own destiny and forge her own future for herself.
Following their performance in Times Square, they arrive back to Japan where they are treated to a huge shock: numerous high school girls from outside Otonokizaka spawn at the airport and barrage them with demands for autographs, photo ops and concert requests. They soon discover that it was in part to their involvements in New York that their fame levels skyrocketed, and many in the group struggle to come to terms to it. Burned out by the constant barrage of fan-girling, the nine members of μ's emerge at a crossroads: whether or not to continue their musical journey together, or disband – the latter of which Honoka struggles to deal with, having previously taken the first season's experience to heart. However, a discussion with Tsubasa, the lead singer of A-RISE, the group they had dethroned the previous year, another chance encounter with the same young woman from New York and a compromise with Nozomi, Eli and Nico, the soon-to-graduate members of the group, lead her to the eventual conclusion: to hold an impromptu benefit concert with various school idols, and perform together to express their love for their work.
Arriving at Akiba, the site of their performance, Honoka finally announces, much to the dismay of μ's and the other school idols present, that they would disband; nevertheless, the school idol benefit concert goes out as a success, with all of them singing Sunny Day Song in unison with each other, and both her and Eli pass on their school idol duties to their sisters Yukiho and Alice, who will enter Otonokizaka as new students. The saga of μ's concludes with their performance at the Tokyo Dome, and they would enter history as one of the most inspiring school idol clubs to have ever graced anime.
WHAT I LIKED
The good thing about the story was that it was not only consistent and easy-to-follow, but it was a good follow-up to the lives of µ's. They're still in good terms with each other and don't lose touch with their identities. All this makes for the movie to be tolerable and a suitable continuation to the Love Live saga that fans of the anime are familiar with.
Midway through the film, Honoka encounters an eerie look-alike version of her in the streets of New York, singing to a crowd of onlookers, and having some conversations with her regarding her musical background and looks up to her as a mentor. This segment was powerful in helping us delve into Honoka's inner machinations, and help her to become a more refined person than she was at the beginning of the season. Interestingly, some people believe this person to be Honoka from the future; I'm more of the theory that this person is representative of her own conscience / guardian angel type of being whom she consults with for help in her own personal matters.
The good news about the musical segments is that, while some CGI and 2D animation mixtures made their way to certain performances, they were blended in good enough to make a somewhat horrifying aberration of sorts. Ditto for the film's pacing, it was a lot more synthetic than going from a musical segment and then jumping straight to the conclusion without anything else preceding it.
WHAT I DIDN'T LIKE
Having the main characters go to New York City under the guise of promoting school idol culture seemed like a really unrealistic throw-in. The odds of a school idol group being invited to perform in New York, let alone Times Square – one of the most heavily visited areas in the whole of United States, is about as likely as the Knicks being any good. Not to mention, the entire street is empty as if to signal that a large part of the city decided to ignore this event. Sure, they've got plenty of Broadway musicals from genres all over the place, but seriously, school idols? Miss me with that they'll say, I guarantee you.
As straightforward as the plot is, there's nothing too special about seeing µ's experience yet another mid-life crisis and question again whether they should disband or not. Based on the anime I was under the impression that they were just in it to save the school, and nothing else – and furthermore even though they already disbanded, what's to stop them from meeting with each other and continuing as friends? You see former sports teammates suiting up with each other whenever one of them are being inducted to the Hall of Fame and chatting it up even though they haven't played on the same team in years, so dragging out this shtick and overcomplicating it was a tad bit nonsensical.
Near the end of the film, Honoka and Eli's sister vow to continue the legacy that μ's left behind, and begin their journey as school idols. Given how Love Live: Sunshine completely eclipses that storyline for another, I found this scene to be pretty useless in retrospect. Then again, I haven't seen the latter yet and probably won't for another few months now, but a series involving them as school idols seems to be quite warranted if you ask me.
CHARACTERS
Nothing too new under the sun here, as the main characters are more or less recognizable not just by their appearances but their personalities as well. Most of the film focuses on Honoka's development however, as she copes with the idea of disbanding μ's, despite her own personal ambitions to the contrary. Then again, it's not like the characters really needed any more change than they already went through in the series, and given that this was meant to be the concludsion to an otherwise excellent anime, there really isn't much else I can add towards this section.
MUSIC
If you recall my review of Love Live: School Idol Project, I had some positive things to say about the music. Tracks like Snow Halation, Sore Wo Bokutachi No Kiseki, Dancing Stars On Me, Start: DASH, and many others were a pleasure to listen to, and tracks which I'd safely say defined the summer of 2019 as one of the greatest summers God has blessed me with. The songs were emotional, inspiring, and had a charming flair to them, all which enhanced the viewing experience. Back to the movie: the songs mostly didn't strike a chord with me. I found them to be, with the exception of Angelic Angel (which debuted when μ's performed in Times Square… for whatever absurd reason) and Hate Na Heartbeat (played after they discover their newfound fame) to be a tad bit underwhelming compared to their series counterparts. In my opinion, the songs seemed too generic for the Love Live franchise and didn't leave me feeling a burst of joy like I'd expect from this franchise.
FAVORITES
Favorite moment: The segment where the μ's members arrive in the Big Apple and amaze themselves with the wonder of being in the city remain my favorite scene in the movie; as someone who loves travelling (at their own volitions), and also has Anime NYC as a place I want to experience for myself one day, I'd definitely react the same way at being there. I pray to St. Christopher that I don't end up in a situation like Umi, Rin and Kotori end up on the wrong part of town – as New York's somewhat infamous for.
Favorite song: Hate Na Heartbeat, sung by Eli, Nico and Nozomi who attempt to devise an escape plan from the raucous fans that awaited them, was a pretty fun song to listen to. All the more entertaining with Nozomi randomly spinning into the scene while proclaiming "Run away" repeatedly. I now understand the full context of that meme, and I have this film to thank for it. Angelic Angel comes a close second, and reminds me of a bustling night in downtown Toronto.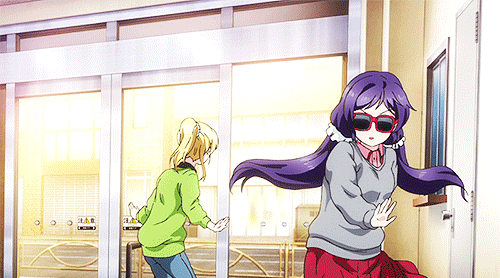 Favorite quote: Honoka's guardian angel figure has this to tell her as an encouragement for her to follow her dreams and overcome all adversities, no matter what they be:
You can fly! I know you can! You did it before, you can do it again!

Honoka's guardian angel encourages her to jump across large ponds
Tell me that doesn't sound anything similar to this memetic masterpiece?
CONCLUSION
As a "final episode" of sorts, Love Live: School Idol Movie found a way to patch things up without leaving behind too much confusing details. However, I found the story was a bit too generic, the musical segments were somewhat flatter than previous segments, and there just wasn't that much charm from the previous series. I'm happy that they did at least end the entire School Idol Project saga on a high note and a banger if you will. My recommendation is that the moment you jump out of the second season's conclusion, immediately watch this series; otherwise you won't be able to go full-circle on your experience with this anime.
SCORE: 7/10