The Catholic Church produces holy members in its saints and martyrs. In every age and country the Church is the Mother of saints, martyrs, confessors, and holy men and women who live in Christ. We do not, however, maintain that all Catholics are holy. Unfortunately, some do not live up to the teachings of the Church; that will be their condemnation. We must remember that even among the Apostles there was one Judas. Our Lord Himself taught in the parable of the wheat and the cockle that the good and the bad will grow up side by side in His Church.

Bp. Louis La Ravoire Morrow, My Catholic Faith Explained (1949)
In October 2019, the Amazon Synod – or as I call it, the Jungle Synod – took place, and would forever be remembered in infamy when Amazonian natives placed a Pachamama statue in the center of the Vatican gardens, blasphemously calling it the Blessed Virgin Mary, and proceeded to perform a pagan ceremony where they offered incense and bowed down before it. In spite of efforts by individuals such as Rich Raho, the folks at Where Peter Is (Where Pachamama Is sounds better IMHO) and some crazy women on Twitter to present the ceremony as somehow Christian (if you think this then just say the Earth is flat and the Sun revolves around it), Traditionalist Catholics attacked the event as blasphemous, exposing the Synod organizers' agenda as sympathetic to Modernism – a liberal heresy condemned by Pope St. Pius X. One of them went as far as to throw the aforementioned statues out from the church of Santa Maria della Transpontina, and into the Tiber River (props to him), re-igniting the surrounding controversy. Although criticized for their words and actions, make no mistake; these folks were out to affirm their allegiance to the Catholic Faith, and more so, to the teaching of Christ Himself.
I was watching the anime Vatican Kiseki Chousakan around the same time as the Jungle Synod. Although faith and miracles was a central theme in the show, all the more prevalent was the importance of keeping faith and devotion to God, even in the face of false pastors trying to abuse the Faith for their own Modernistic needs – which is demonstrated by protagonists Frs. Joseph Kou Hiiraga and Roberto Nicolas.
Note: This post serves as the 2nd part to the previous post on the topic of faith and miracles.
ARCHBISHOP SAUL'S PRINCIPLE: IT IS CHRIST THAT MATTERS
In the fourth episode of Vatican Kiseki Chousakan, Frs. Hiiraga and Nicolas expose a Mexican church congregation as nothing more than a front for a scheme to revive Adolf Hitler, and launder money to a corrupt organization. Upon their successful return, they are commended by their superior, Archbishop Saul, who notifies them that a Vatican official associated with the scheme has been sacked from his position. The following discussion parlays one of the most beautiful quotes (below, in bold) I've ever heard in this series, let alone from anime in general:
Abp. Saul: I know what you want to say: witnessing corruption within the Church can shake your faith. I don't blame you.

Fr. Nicolas: Your Excellency, has that ever happened to you?

Abp. Saul: As a matter of fact, at times it has. But it is in those trying times that I hear the voice of God speak to me: As long as if I have even the smallest light of faith within me, I will be able to overcome the Devil. I pray that you two will be able to carry that light, and for God to bless you on your journey.

Archbishop Saul's exhortation to Frs. Hiiraga and Nicolas, episode 4
Archbishop Saul exhorts that upholding faith in Christ, and making Him the center of our heart's attention, is the necessary antidote to all the problems inherent among the Church today. It makes sense – as Christians, one should always look to Him, and model our life based on Him. On one note, it's a nice testament to one of the four marks of the Catholic Church: its Holiness, for the mere existence of many sinners within it does not, in any way, invalidate the fact that Christ has made the Catholic Church as a singular means of providing salvation. Secondly, it's well in line with one of St. Paul's quotes, where he instructs the faithful to profess faith in Christ, strive to become saints themselves, and "with fear and trembling, work out your own salvation" (Philippians 2:12). In other words, do not be concerned with the faults of others until you perfect yourself in Christ first.
The two priests would take Archbishop Saul's message to heart in later missions afterwards, upon coming across shifty fellows who, "professing themselves to be wise, became fools" (Romans 1:22) for Modernism.
VATICAN KISEKI CHOUSAKAN'S WAR AGAINST MODERNISM
It's interesting to see the fruits of their adversaries' works, and compare it to that of Frs. Hiiraga and Nicolas. Kid Goldman, a promoter of the prophecies of "Fr." John Jordan, who is nothing more than Fr. Nicolas' abusive father, and Fr. Trones who use a "luminous" crucifix to disguise a drug operation below his church, reduce the Faith to nothing more than mere vital immanence; i.e. the façade of having met God validated only through personal, rather than a supernatural experience. This lack of supernatural fear of God instilled in them leads them to despair once their operations of error are exposed, resulting in their grisly ends. Even worse: Fr. Julia, who in episode 6 is initially is depicted as a pious, humble and knowledgeable priest of Christ, comes out five episodes later as a practical apostate in being a member of the in-show equivalent of the Freemasons, the Galdoune. His fanaticism towards his organization's goals drive him towards a path of naturalistic and agnostic principles; to Fr. Hiiraga's horror and rebuke, since he looked up to him as a model of virtue prior, he shuns those that he ministered to as nothing but mere pawns to his plan. Make no mistake – what these characters believe is Modernism, the "synthesis of all heresies" at its core, leading to a sad life where God is rejected as irrelevant. Their ideas are something Pope St. Pius X, who condemned these principles in Pascendi Dominici Gregis would have shuddered at upon hearing.
Modernists place the foundation of religious philosophy in that doctrine which is usually called Agnosticism. According to this teaching human reason is confined entirely within the field of phenomena, that is to say, to things that are perceptible to the senses, and in the manner in which they are perceptible; it has no right and no power to transgress these limits. Hence it is incapable of lifting itself up to God, and of recognizing His existence, even by means of visible things.

… However, this Agnosticism is only the negative part of the system of the Modernist: the positive side of it consists in what they call vital immanence. This is how they advance from one to the other. Religion, whether natural or supernatural, must, like every other fact, admit of some explanation. But when Natural theology has been destroyed, the road to revelation closed through the rejection of the arguments of credibility, and all external revelation absolutely denied, it is clear that this explanation will be sought in vain outside man himself. It must, therefore, be looked for in man; and since religion is a form of life, the explanation must certainly be found in the life of man.

Pope St. Pius X, Pascendi Dominici Gregis (1907)
In contrast, Frs. Hiiraga and Nicolas' attitudes resembles those of true believers of Christ. With Him at the center of their hearts, their faith only flourishes and becomes stronger with their every walking moment. On top of discerning between true and false miracles, the two priests do not abandon their friendship no matter how dark their pasts are, but rather reaffirm their brotherhood in Christ. Through thick and thin, they dedicate all their works to God, thanking him for everything He has given in their lives. Emboldened by Him, they resist and overcome the evil forces before them – even when threatened with apostasy or death. They keep true to their priestly vows of bringing souls to Christ, with a genuine care for their physical and spiritual welfare. Having fought the good fight and their faith firm-grounded, they emerge as kinder, less prideful and confident; no amount of evil can shake their unwavering faith; not even from their adversaries who have drunk the poisoned Kool-Aid of Modernism.
When I think of the fruits of the strong faith of Frs. Hiiraga and Nicolas, my mind turns towards the multiple Catholic clergy who stood firm in their adherence to God and the Church's true doctrine even in the wake of one of the biggest disasters to strike it in recent history: Vatican II.
VATICAN II: THE REASON WHY WE CAN'T HAVE NICE THINGS
I picked this as my post's topic for this week because tomorrow (December 8), the Feast of the Immaculate Conception of the Blessed Virgin Mary, marks 55 years since the closing of the aforementioned Robber Council by Pope Paul VI. Initially convoked in 1962 by Pope John XXIII, the council would be overrun by bizarro theologians such as Frs. Yves Congar, Annibale Bugnini and Karl Rahner to name a few, who would present their exceedingly heretical ideas on the nature of the Church, Her liturgy, ecumenism and the like; unsurprisingly, at least three of the council's documents contain their heretical ideas. Needless to say, the council's effects were devastating worldwide.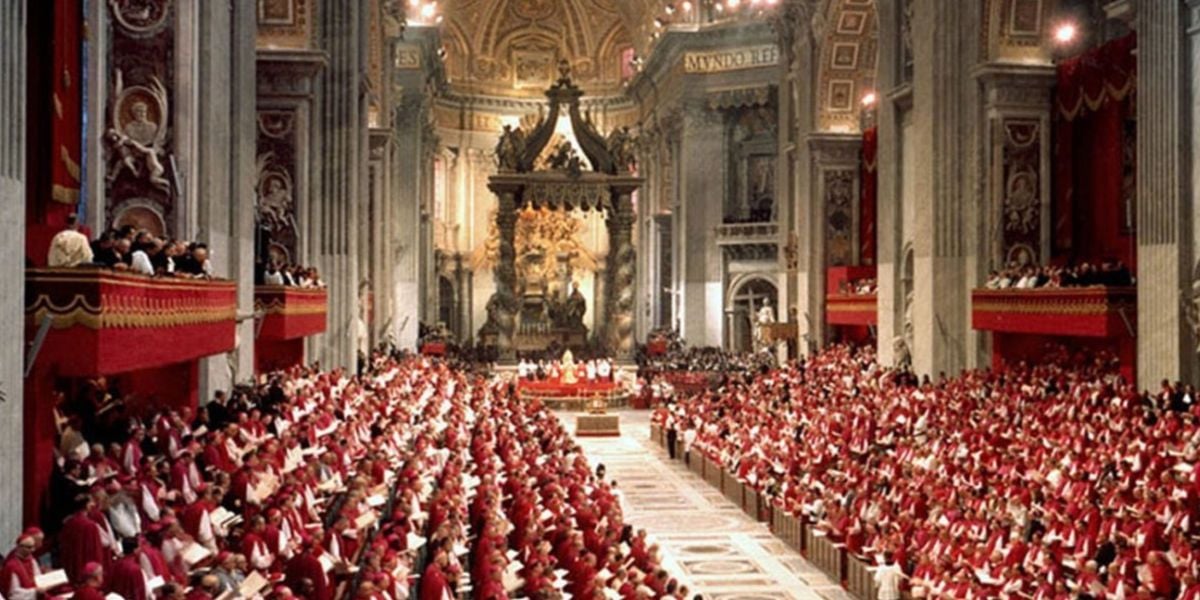 The "spirit of Vatican II" enabled some priests to not only teach previously condemned ideas to their congregation, but, like Fr. Trones, openly mock the Faith; such as transforming the Holy Sacrifice of the Mass into a community meet-up for a "personal experience with God" complete with profane dancers, crappy hippie "sacred" music and un-edifying sermons. Others went the route of Fr. Julia, semi-apostatizing and decrying the Catholic Faith which they grew up with in pursuit of wicked acts; such as "wreckovating" churches of Catholic ornaments such as statues of Christ and the saints, high altars, communion rails, and teaching others to deny Christ's divinity by receiving Communion in the hand. Instead of a renewal, they produced disorder as well as a mass exodus of both laity and clergy alike, one which still persists 55 years after.
But amidst the disorder there remained clerics who, like Frs. Hiiraga and Nicolas of Vatican Kiseki Chousakan, kept alive the practice and teaching of the Traditionalist Catholic Faith. Diocesan priests, some of them sedevacantists (who I nevertheless regard as Catholic) such as Frs. Gommar DePauw in New York, Yves Normandin in Montreal, Francis Ducaud-Bourget in France, and Joaquin Arriaga in Mexico reached out to provide catechesis and Sacraments to many Catholics, helping them grow spiritually amidst the conciliar chaos. Archbishop Marcel Lefebvre founded the Society of St. Pius X in Econe, Switzerland to train priests in the same Catholic formation he received – a mission which still continues to this day. Influenced by their actions, many priests would join these Traditionalist circles, some of them starting institutes to train seminarians in proper formation of the Faith, such as Bishop Antonio Castro De Mayer of Campos, Brazil, Fr. Jonathan Robinson (RIP) with his Toronto Oratory or Fr. Gilles Wach of the ICKSP.
Through their conduct as proper servants of Christ, they helped many people to find comfort in Christ and amend the terrible effects the modernist council had on their spiritual lives. Were it not for their work in preserving Christ's unchanging doctrine and His Sacraments during a dark time in the Church's history, there not be hundreds of churches today with sound doctrine and a beautiful, uplifting-to-God liturgy in the Tridentine Mass. I would never have become a Traditionalist Catholic if I didn't come across, and become inspired, by their stories.
CONCLUDING WORDS
The ultimate end of the Catholic Faith, and the Christian religion in general, to give all glory and honor to Christ Jesus and live for Him; which only make Archbishop Saul's exhortation so beautiful, and memorable even a year after I first watched it since the message is applicable and relevant for any Christian living in these days. Frs. Hiiraga and Nicolas' example of emitting holiness, despite their enemies' embrace of Modernist thinking, is conduct that Traditionalist Catholics can take away, and hopefully adopt (myself included). Some ways this can be done include: reading classical Catholic texts on dogmatic/moral theology as well as spiritual ones (such as St. Alphonsus Liguori's sermons or The Imitation of Christ), daily prayer, and through practicing acts of virtue such as charity or selflessness towards others. If one consistently does this and with the end goal of glorifying Christ in mind, nothing will diminish your faith.
I leave you with some encouraging words from two clerics who fought to keep the Catholic Faith alive against the "spirit of Vatican II": Fr. Gommar DePauw and Archbishop Marcel Lefebvre.
What can we really do, ladies and gentlemen? PRAY. Pray and pray… Because, humanly speaking, we are in a mess we can't get out of. Right now we must ask God, Jesus Christ, to wake up. The situation of our Church today is very much like the situation the Apostles found themselves in when Christ was sleeping in the little boat during the big storm. We must storm Christ and ask him: "Lord, we perish! Save us!"

Fr. Gommar DePauw, "Conciliar or Catholic" (http://www.catholicapologetics.info/modernproblems/vatican2/conciliar.htm)
Therefore, when our Faith is being attacked from all sides we must hold steadfastly and firmly to it. We must never accept that there can be any compromise in the affirmation of our Faith… Here is what I wish you, my most dear brethren, and in this we must be unflinching, whatever happens. We must never agree to diminish our faith; and if by misfortune it were to happen that those who ought to defend our Faith came to tell us to lessen or diminish it, then we must say: "NO."

Archbishop Marcel Lefebvre, sermon at Rome in 1975 (http://archbishoplefebvrecom.weebly.com/may-25-1975.html)