As I write this post, we are currently in the midst of celebrating the Christmas season; so I would like to wish all my followers on my blog and Twitter a very Merry Christmas, and may God's blessings reach you during this time, and may we turn to Him just as the shepherds and the Magi did on the day of His birth.
While we're on that topic, let's discuss the phenomenon of Christmas-themed episodes which pop up in anime from time to time. Though less than 1% of the Japanese population identify as Christian, Christmas still remains a massively popular holiday celebrated among families across that country, and anime is no exception to showing how they typically celebrate this Christian holy day. Although the huge majority of them focus on the secular components of it, such as spending time with family, friends, and external components like snow, Christmas trees, or Santa Claus, and not so much on the true meaning behind the holiday, nevertheless I did manage to find a few episodes that I enjoyed focusing on this topic, and so I'd like to present some of those in this week's post.
Honorary Mention: Lucky Star, Episode 11
I recently re-discovered Lucky Star's Christmas episode, and I found that I enjoyed it quite much. In particular, there was the opening discussion where Konata, Kagami, Tsukasa and Miyuki discussed their experiences with sleeping on the transit. I had to chuckle a bit when Konata told the story of how her father missed his stop despite taking the early train, because I actually found myself doing that last Christmas season on the day before I was set to take my vacation from work (fortunately, I still managed to reach the office around 7:45AM instead of 15 minutes earlier, so it wasn't a total loss). Other cool tidbits from this episode included how Kagami and Tsukasa sang in a Catholic choir despite their presumably Shinto beliefs, Konata's lack of belief in Santa Claus, and Konata's father's fascination with static electricity shocks at the end of the episode.
One reason that this show landed on the Honorary Mentions list in this list was primarily because although the episode wasn't really that Christmassy compared to the next three here, nor was this an episode that I particularly cherished from this series, it dawned on me how similar the main quartet of Lucky Star was to my square of friends; in particular, I closely relate to Konata, the local otaku who basically treats life as a treat to be enjoyed, her motives constantly questioned by her best friend Kagami; minus the gaming part.
#3: Himouto Umaru-Chan, Episode 8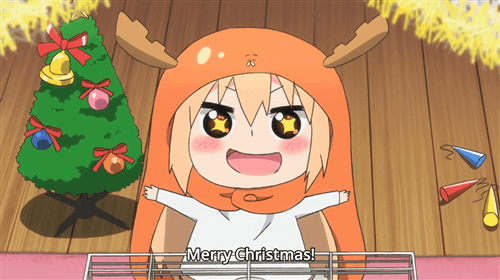 Everyone's favorite schizophrenic little sister trope, Umaru Doma – the lead female protagonist from the first Himouto: Umaru Chan series, gets a Christmas and New Year's themed episode in the eighth episode. In the Christmas portion of it, Umaru plans to spend time with her brother Taihei on Christmas, unaware that due to some last-minute arrangements at work, he has to stay late – which is quite a common problem in Japanese society as opposed to North American ones. The hours she spends alone nearly disheartens Umaru, who vowed not to leave the house under any circumstances, and confines herself to seeing her friends' Christmas endeavors on social media – until Taihei and Kirie, another girl who she befriended (the former, unaware that she has multiple personalities) show up to greet her with Christmas cheer. The following part takes on a more cheery tone as Umaru, Taihei and his best friend Takeshi spend New Years' Eve reflecting on the good stuff from the previous year, and enjoy a nice feast of yakitori, coke and beer to ring in the New Year. Oh, and there's also a subplot involving Taihei's boss, Kanau (also a friend from their high school days) comically trying to hook up with him on Christmas to cope with her lonely disposition.
Overall it's a pretty heartwarming episode which quite well sums up a common trope that I have enjoyed about the Christmas season: extended opportunities to hang out with friends and family, and engage in various dank activities. Some of the examples in my life include watching a suite of Christmas NBA games with family, in particular my father or uncle, accidentally running into the Mighty Ducks trilogy on Christmas a few years back at a relative's house (which to this day remains one of the best Christmases spent at their place), and, last year, ringing in the New Year at a friend's house, complete with pizza, some anime clips and a gaming party.
#2: Love Live, Season 2 Episode 9
Apart from a brief scene in episode 2 where Maki affirms her belief in Santa Claus, and the rest of μ's having to intervene from Nico making fun of such, Love Live amps up the Christmas spirit 7 episodes later. As they continue their journey through the Love Live preliminaries, a huge snowstorm has struck the town of Otonokizaka, which threaten Honoka, Umi and Kotori's odds of reaching the stage on time; not to mention, their duties as part of the student council are taking top priority over their musical duties. However, spurred on by their classmates, who give their bodies to helping them clear the snow path for them, they make it in time to perform their latest (and probably their most well-known) song, Snow Halation.
Watching this episode made me feel at home, because it captured the essence of a typical Canadian winter experience quite nicely: cold, messy, and troublesome in general – and reminded me how much I prefer summer. How Honoka and company were able to run through snow and withstand it, in spite of their school uniforms is beyond me. That aside, probably the thing that cemented me enjoying this episode was Snow Halation itself. μ's choreography, the integration of jingle bells, and the delivery was quite outstanding. My only complaint with this episode would be that the song didn't last longer – but then again, I'd probably have to say the same for other episodes too in this regard.
Before I move on to #1, I just wanted to chime in that some might object to my definition of this as a Christmas episode, as the date is not really specified in-show, and therefore it could take place anytime during the winter season. However, I want y'all to consider one thing – Snow Halation's release date is listed as 22 December 2010 – if that's not close to Christmassy enough then I don't know what is. Food for thought!
#1: Digimon Adventure 02, episodes 38
Let's just ignore the fact that Taichi was snubbed by Sora in favor of Yamato in this episode. I've already talked about it before and I really don't want to make that the focus of this post. But in spite of that, Digimon Adventure 02's Christmas episode has to be one of the most memorable Christmas episodes I recall to this day. Thanks to Koushiro, the Digidestined are able to spend time with their partners at Odaiba for Christmas, and celebrate it at Yamato's concert. However, Arukenimon disrupts it by sending hordes of Dark Tower-controlled Digimon to run amok in Odaiba, which prompt the Digidestined to intervene and stop them from ruining Christmas.
Everything about this episode was just perfect. Okay, mostly perfect but still, I really don't have much to complain about it. In fact, come to think of it, this whole series felt like a redux of a Digimon Adventure episode, especially one involving a similar premise with the Digidestined having to stop the series' Big Bad from destroying Odaiba. *cough*Digimon Adventure, episodes 36-39*cough* The battle scenes though were pretty entertaining and I especially loved how the old and new Digidestined finally come together to fend off Arukenimon's army; that sight is a rarity in all of Digimon Adventure 02. In addition, Koji Wada and Ai Maeda also produced some really beautiful Christmas tunes just for this episode – the latter of which, Tenshin No Inori, is practically a mandatory song for me to listen to every Christmas season. Thanks to these features, this episode has basically become ingrained in my head every time December rolls around.
CONCLUSION
This concludes my list of favorite anime episodes that are set around the Christmas season. All in all, I enjoyed them for their solid visual depictions of the holiday, the musical pieces put out in memory of such, and being able to remind me of some of the best Christmas moments I've had with friends. Even though I hate winter and everything to do with it such as the snowstorms, the delayed buses and the lack of dank events like anime conventions, there's no denying that I enjoy having friends and company around to work with to make the winter blues pass away, even if it's temporary. I look forward to the day when I can finally be able to do that again.
BONUS STAGE: Some blog awards
Just to close off this post, I'm going to add in a few questions courtesy of Yomu from Umai Yomu Anime Blog and Jyotsna over at ArtPsycho. Apologies for taking this long to address your posts; I've had a bit of a backlog and it's finally come around that I'm able to address some of the questions you've had as part of your respective blog awards.
Part 1: Yomu's Questions
RULES
Display the logo.
Thank the blogger that nominated you and link their blog.
Answer their questions.
Nominate new bloggers.
Ask them seven questions.
If you had to listen to one song on repeat for the rest of your life, which song would you choose? Butterfly by Wada Kouji, the opening theme for Digimon Adventure would probably be on the list; I have lots of good memories to associate with it.
What sound makes you the most uncomfortable? The sounds of Saturn are the stuff of my nightmares.
What is your favourite anime hairstyle? No comment on this one.
If you had millions of dollars to invest in creating new anime or funding anime sequels, what would your top three courses of action be? The simple answer to this is, I wouldn't invest in producing an anime. I'd probably invest at least 90% of it in a bank investment account, and keep the remaining 10% in case of emergencies.
Re-read and link your first post. What are your thoughts on it now? My first post, technically speaking, is a review of Digimon Adventure. Unlike most Anime Review series that I wrote between September 2018 – September 2019, this one is probably the one which I consider my best from that range. It was concise and covered the aspects of the show nicely. It wouldn't be until late 2019 that I would be able to invest more time in replicating the same amount of effort as I did with this one.
What is a blog post you've written that you wish got more attention? I write my anime blog as a hobby and not as a means of stroking my ego, so I could really care less about posts I wish should have gotten more attention. All glory goes to God in whatever I write on this blog.
Did you know that you can save up to 15% in just 15 minutes with Geico? Yes, I've seen that green gecko enough times to be familiar with this jingle. Thanks again Yomu 🙂
Part #2: Jyotsna's Questions
RULES
Provide the link to the creator's original award post. (very important: see why in step 5)
Answer the questions provided.
Create 7 unique questions.
Nominate 10 bloggers. Ensure that they are aware of their nomination. Neither the award's creator, nor the blogger that nominated you, can be nominated.
At the end of 2020, every blog that ping-backs the creator's original post will be entered to win the 2020 Outstanding Blogger Award!
Which book(s) have you read / are going to read in the last/next 10 days? Any books released in 2020 that you would like to recommend me? Currently I am reading St. Paul's Epistles from the Bible, and am enjoying it because they remind me of certain moral theology texts written by various pre-Vatican II Catholic theologians. I don't know about books released in 2020, but as an alternative I can recommend some of my favorite books pertaining to the Catholic Faith, such as:
Moral Theology by Fr. Heribert Jone
Introduction to the Devout Life by St. Francis De Sales
Faith of Our Fathers by James Cardinal Gibbons
The Imitation of Christ by Fr. Thomas a Kempis
State a fun fact about you that makes you stand out in any generic crowd, do you have any rebellious feature that makes a point in your bio? Well, if you do see an Asian guy wearing a hockey jersey in public who looks like the last person you'd think is a weeb, that's probably me. With respect to anime conventions though, let's just say that my cosplays would be most likely those you'd least expect to see there.
Give away a couple of your favorite latest Netflix series or Anime that you would want me to watch? Sure thing Jyotsna.
Cobra Kai (note: probably watch The Karate Kid trilogy first before jumping into this)
Neon Genesis Evangelion
Digimon Adventure
Little Witch Academia
Dogs or cats (or a third option)…and why? I prefer dogs, they're very optimistic and so full of energy just like I am.
Name 3 snacks that figure in your cheat diet! No comment on this one.
What are your pet peeves (top 3)? People who make retarded statements about what Catholics supposedly believe (Jack Chick, Vatican II, I'm looking at you), unclear project requirements, and when things don't go the way I expect them.
For how long could you possibly unplug and stay clear from any social media? (time in minutes/hours/days?) The only social media I have is a Twitter account; I just check to see who followed me and what's on my timeline these days. The longest I can stay clear from it is 2 days.
Feel free to make up your own questions and nominate yourselves if you found this section interesting. Thanks for the questions folks – I hope you enjoyed reading my answers!