Last week, more than 30,000+ anime fans of all ages converged in New York City for Anime NYC – a three day anime convention that was sponsored by Crunchyroll, best known for providing streaming services for anime series. Of course, my social media was flooded with pictures from those attending this convention. How lucky were those individuals that could attend an anime convention – let alone brave the November cold to enjoy a weekend of weeb entertainment and many other shenanigans. Here in Toronto, anime convention season is long done since September (August for me, since I didn't go to KimiKon) and we're a long way from the bright days of May (that's when Anime North starts). Thinking about this got me wondering, "Which anime conventions should I plan to trek towards, should I have the time and money to afford it?"
So for this week's blog post, I'm gonna list some of the conventions that I have in mind to visit once I become able to. I know I'm still a long way from affording my own place and some meager financial stability, but hey – a man can dream, so long as if it's within realistic bounds. Before we begin, let me reiterate a few of my filters for deciding which conventions to go to. They must:
Have the presence of a Tridentine Mass nearby (VERY IMPORTANT). I make no distinction between Masses offered by those who acknowledge Francis as Pope, or sedevacantists (in the event the former is not available). They are both Catholics and I won't hesitate to attend them should they be available.
They must be BIG – and I mean, at least 10,000 in attendance. I don't bother settling with small to medium sized conventions.
Of lesser importance include event quality and entertaining things going on.
So, let's get started!
TORONTO COMIC CON
Location: Toronto, Ontario
Date/time: Mid-March
Yearly attendance: At least 10,000 (OK)
Ticket prices: $60 for 3 days
Catholic parishes nearby: Holy Family Roman Catholic Church (Oratorians of St. Phillip of Neri)
First up on the list is Toronto Comic Con, which those in the anime scene tend to refer to as Metro Toronto Anime Convention, or something of the like. From the looks of it, it seems like a smaller-ish version of Fan Expo, and as usual will consist of a cluster of comic-related panels, a large space for merchandising, and a mingle of anime-related and non-anime cosplays abound. The only thing that's keeping me from going to this convention is the date; springtime, which means a possibility of dealing with rain, snow and everything nasty.
OTAKUTHON
Location: Montreal, Quebec, Canada
Date/time: Sometime in mid-August
Yearly attendance: At least 20,000 (BIG)
Ticket prices: $60 for 3 days
Catholic parishes nearby: St. Iraneus's Roman Catholic Church (FSSP)
Being present at the second-largest anime convention in Canada has been on my mind for almost a year now. In December of 2018, my family and I went to Montreal a family trip, and despite the cold it was an absolutely gorgeous experience. One of the places we stopped by was the place where Otakuthon was hosted: the Palais de congres de Montreal. I immediately began to imagine what it would be like to come back to Montreal in the summer, and mingle around Otakuthon – even to the point of deliberating on spending the night at church to avoid paying hotel costs. Not to mention, I am intrigued by some of the events on the list; namely, the Otaku Comedy Show, the Cosplay Cafe and its Idol / Karaoke Show. Additional bonus too because there's a parish that offers the Tridentine Mass that's easily accessible by subway; I've attended Christmas Mass here and it was a beautiful, awe-inspiring experience that I'd love to re-visit again.
ANIME NYC
Location: New York City, New York
Date/time: Mid-November
Yearly attendance: At least 35,000 people (BIG)
Ticket prices: $85 for 3 days
Catholic parishes nearby: Holy Innocents Roman Catholic Church (diocesan), St. Anne's Roman Catholic Church (diocesan)
Barring the awful look of the Javits Center where this convention was held, I've started considering going to this convention, held in the diocese of my favorite Roman Catholic cardinal, Francis J. Spellman, ever since pictures of it started showing up on my Twitter feed. There's so many things about this convention that I've seen that remind me of Anime North; namely, the mascot, cosplay photoshoots and the high-tier level of the guests they bring along. Beyond that fact, I've always dreamed of visiting New York City and seeing the "City That Never Sleeps" for myself. My family and friends have been there – so I figure, why the heck not? See the sights, and attend an anime convention? Double whammy for me!
ANIME BOSTON
Location: Boston, Massachusetts
Date/time: Only God knows. Typically around March – May.
Yearly attendance: At least 20,000 (BIG)
Ticket prices: $80 for 3 days
Catholic parishes nearby: Cathedral of the Holy Cross, Our Lady of Lourdes Church (Newton)
Having seen some videos of the events taking place at Anime Boston back in March of this year – namely Anime Who Wants To Be A Millionaire, Cosplay Death Battle and the Cosplay Chess match, I can already feel huge amounts of hype coming from this convention, and has been on my list of conventions I plan to visit ever since then.
CRUNCHYROLL EXPO AND FANIME CON
Location: San Jose, California
Date/time: Memorial Day weekend (Fanime Con), early September (Crunchyroll Expo)
Yearly attendance: At least 30,000 (Fanime Con, BIG), at least 40,000 (Crunchyroll Expo, BIG HUMONGOUS)
Ticket prices: $85 for 3-4 days
Catholic parishes nearby: Immaculate Heart of Mary Oratory (ICKSP)
Speaking about double whammy, here's another pair of conventions that I'd like to see: Fanime Con and Crunchyroll Expo, both held at Silicon Valley (a.k.a the Vatican for software developers like me) and in the same venue, who would have thought? I'll address each of them separately in this case:
FanimeCon: One thing that I should note is that FanimeCon takes place during Memorial Day Weekend – in Canadian, that also happens to be on the same weekend as Anime North. So much logistics are going to have to be worked out with this one… but nonetheless, there's a lot to anticipate with this con for me. Apart from my usual lineup of things to see such as Cosplay Chess, there's also something called the Cosplay Scavenger Hunt – something that I've done myself at previous conventions, and its unique Karaoke competitions which, unlike other conventions which focus more on the self, are more competitive in nature. See "The Karaoke Contest" and "Ultimate Karaoke Fighting Championship" for example! Those are wild shows that I'd hope to join and see someday!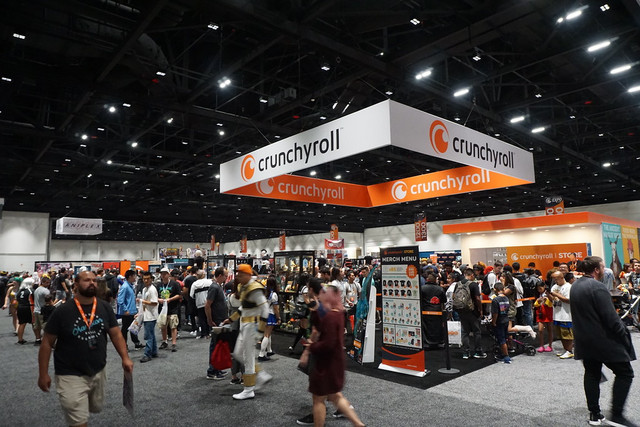 Crunchyroll Expo: Judging from this article and this video I get the feeling that this convention will feel more like Fan Expo, which readers will know from my post on my last trip to Fan Expo 2019 to be corporate, and possibly void of much fan-themed events. The only difference is that it's hosted by Crunchyroll, a streaming service that hosts anime content – which means that the things that I'll see there will be more to my liking. And there's also the Crunchy City Night Club stand too – which, despite not being an opponent of the nightclub life, caught my eye with its karaoke portion. Nevertheless, it's a good opportunity to bask under the hot San Jose sun in a cosplay.
ANIME EXPO

Location: Los Angeles, California
Date/time: Sometime over Independence Day weekend
Yearly attendance: Over 100,000 (ENORMOUSLY MASSIVE)
Ticket price: $85 for 4 days
Catholic parishes nearby: St. Vitus' Roman Catholic Church (FSSP), Our Lady of the Angels Roman Catholic Church (SSPX), Our Lady Queen of Angels Roman Catholic Church (CMRI – sedevacantist)
And finally, we have Anime Expo: the unequivocally largest anime convention in North America, and for great reason! It's hosted in the middle of downtown Los Angeles, takes place around the weekend of American Independence Day, and has seen many notable anime-related guests such as Vic Mignogna pass through its hallowed halls. For me, attending this convention would be one heck of an experience – to trot through the convention, in my best cosplay, amidst 100,000 other like-minded individuals would be the stuff of dreams. The only thing that I would look out for are the ridiculously long lines, the bewildering heat typical of California, and not to mention, earthquakes (of which this year's Anime Expo had).
HONORABLE MENTIONS
Below are a list of conventions that I wouldn't mind visiting one of these days, but unfortunately didn't make it into my list due to my lack of knowledge about them. Keep in mind, the more acquainted I am about a convention, the more likely I am to dream about attending it.
Youmacon in Detroit, Michigan (October / November)
Otakon in Washington, DC (July / August)
Comiket in Tokyo, Japan (December)
Anime Central / Anime Midwest in Chicago, Illinois (May for ACentral, July for AMidwest)
CONCLUSION
As I conclude this article, I can't help but smile at the thought of myself coming down on these conventions one day in the future. How cool would it be to – for example, randomly show up in a cosplay of Cardinal Francis Spellman, in full cappa magna, at Anime NYC, or even going as Syaoran Li or Judge Claude Frollo at Anime Expo and Otakuthon, respectively. I pray to God, and his Apostle St. Matthew and my own patron saint, St. Christopher, that I may one day have the money necessary to make these travels, and that I be protected while on my exciting journey there – should, by His will, I be able to make them.